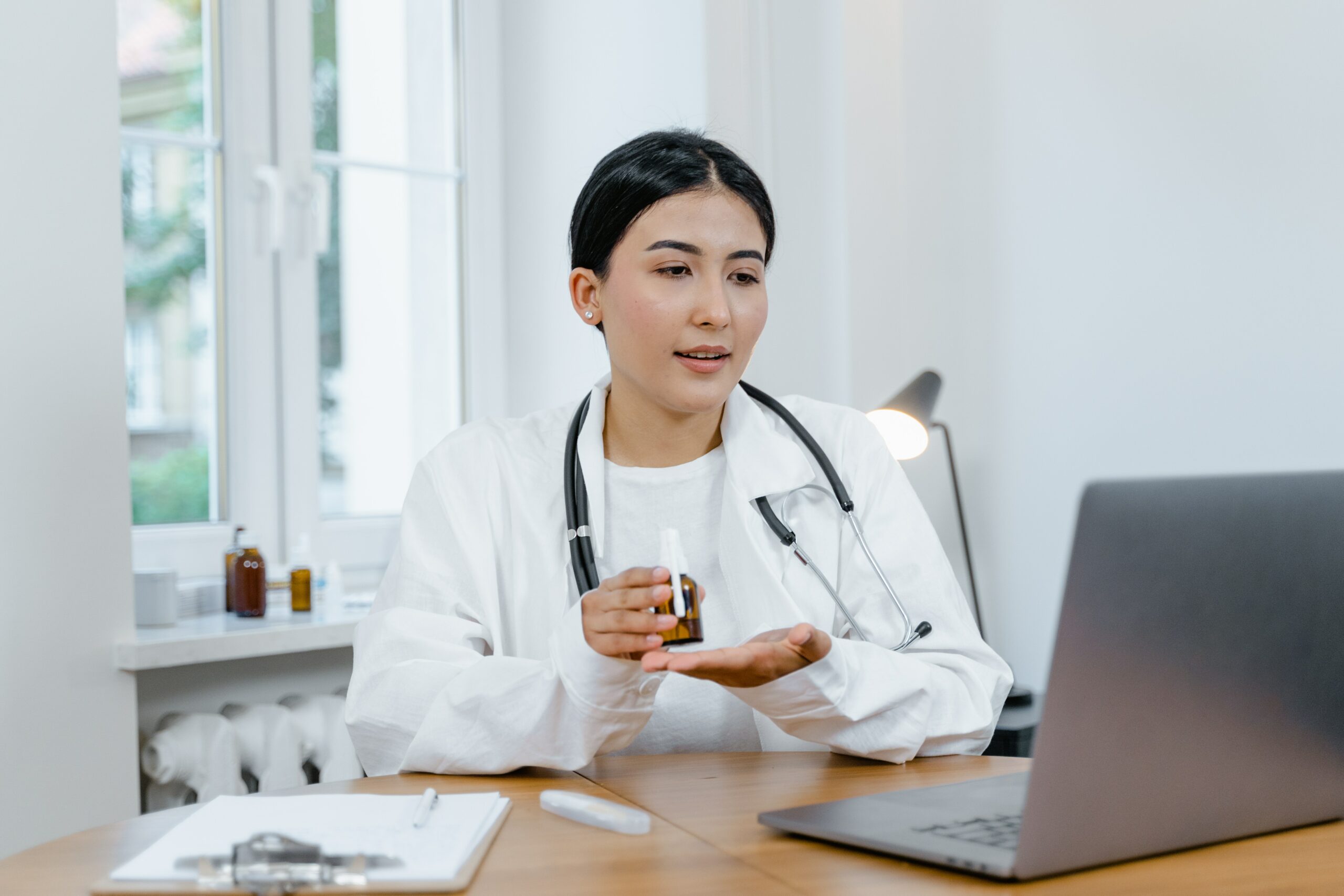 Telemedicine is Here to Stay
- Comment
As the COVID pandemic began, telemedicine swept across the world as the desired option in administering and receiving medical care by patients and medical professionals alike. By giving all parties involved safe, no-contact access to various types of care, telemedicine became integral to the healthcare industry. Now, as the COVID-19 pandemic surges on with new variants like Omicron arising causing case numbers to rise; one thing remains clear, telemedicine isn't going anywhere. 
Redefining Telemedicine with the Prescribe PortableConnect  
When you think of telemedicine you probably envision a doctor and a patient video chatting, perhaps discussing physical symptoms or doing an online therapy session. Yet, telemedicine extends well beyond such simple setups. Defined by HealthIT.gov as any technology used "to support and promote long-distance clinical health care, patient and professional health-related education, public health and health administration," there are several spaces where telemedicine is transforming lives in unexpected ways.
And with new high-tech telemedicine solutions like ROMTech's Prescribe PortableConnect, even fields that felt next to impossible for telemedicine to take place in, like orthopedic rehabilitation, are being impacted for the better. 
Traditional Rehabilitation vrs Telemedicine
Traditional rehabilitation from orthopedic injury or surgery includes countless doctor's appointments and physical rehabilitation sessions over several months, or even years, depending on the injury. Orthopedic surgeon Dr. Thomas Nelson of Hutchison, Minnesota explains that "patients don't like going to therapy. ROMTech achieves the same outcome as going to therapy except they can do it in their home. I think that's going to be key." These physical rehabilitation appointments often require patients to travel to a gym setting designed for exercises to take place with a physical therapist. The in-person sessions can furthermore be a giant hurdle to a patient's recovery- not because the sessions themselves are not helpful, but because getting to and from the session can be difficult. As with many orthopedic surgeries, patients are unable to drive and thus need to rely upon others for transportation to and from sessions. When any sessions are missed, recovery is slowed and patients' lives then become less likely to return to normalcy at the pace they desire.  
Fortunately, none of these risks are realized with telemedicine solutions in orthopedic recovery like ROMTech's Prescribe PortableConnect. In short, the ROMTech technology enables gentle, therapeutic movement within a comfortable range of motion for patients while also providing remote clinical oversight and fully customizable therapy protocols. And while patients have independence in that they can utilize this technology without leaving their homes, they are guided through the process from start to finish. A key component of successfully moving PortableConnects into the field and the continuous ability to interface effectively with surgeons and patients throughout recovery is the initial introduction to the technology through home visits of our Field Clinicians. 
ROMTech Field Clinicians Set the Stage for Telemedicine Success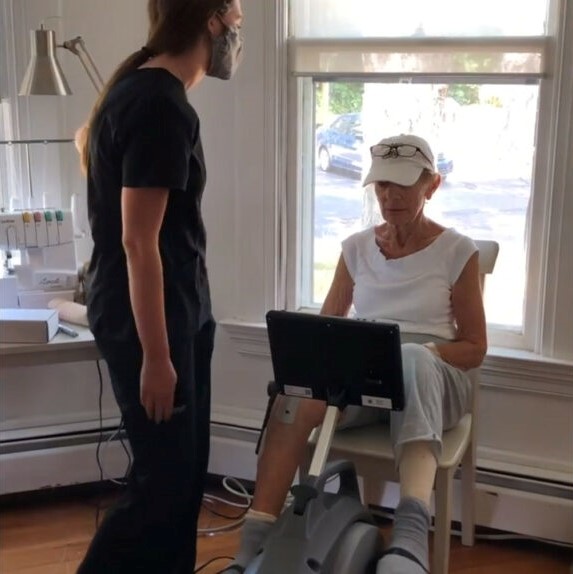 Field Clinicians quite literally act as the friendly and knowledgeable faces of ROMTech to patients in recovery. Once a patient is prescribed treatment with a Prescribe PortableConnect, a ROMTech Field Clinician then delivers the device to the patient's home where it is then customized to each individual's needs. They take the time to also familiarize the user with the device and make sure they are comfortable with using it over the course of their recovery plan. 
Field Clinicians at ROMTech undergo comprehensive and standardized training so they are best able to serve patients. They additionally act as an integral connection between the supporting clinical teams prescribing the device. Their expertise of the Prescribe PortableConnect is paramount to ROMTech's success, as are qualities presented such as friendliness and dependability. With over 30 individuals now serving in such roles across the nation and with plans to expand this team even further, it is great progress to  have a personal introduction from this expert team to all patients, increasing their trust in the revolutionary telemedicine technology and setting patients up for success in recovery. The Field Clinicians furthermore close the loop and are able to pick up the device at the end of treatment and check in on how the treatment plan progressed. As the Prescribe PortableConnect prescription frequency increases around the nation, these individuals are also integral to the successful expansion into new pilot markets. There is continuous opportunity for Field Clinicians to find success and contribute to the positive transformation of patients' lives through remote telemedicine technology. 
Telemedicine Minimizing Treatment Plan Times  
While many traditional treatment plans for orthopedic rehabilitation last months, sometimes even years, rehabilitation with the Prescribe PortableConnect on average lasts 3-6 weeks, with 3-5 home therapy sessions per day. The ease and speed of rehabilitation has greatly contributed to the success of ROMTech within the field of orthopedic recovery and is transforming the modern technology of rehabilitation. Because the PortableConnect automatically walks patients through all aspects of recovery and measures range of motion, in addition to tracking key health metrics, there is nothing that falls by the wayside even in what may seem to be a short period of time. The data collected by PortableConnect is also shared with the prescribing doctor so the clinical team always knows how patients are doing in real-time. This constant connectivity provided through the telemedicine capabilities of ROMTech is a large part of why the device continues to gain traction in the medical community. 
Orthopedic surgeon, Dr. Scott Wingerter of Leawood Kansas details his appreciation for the Prescribe PortableConnect by saying "ROMTech is an investment in a technology with large potential and in which I have a lot of confidence. With the medical input we have provided, the company continuously improves the product with adaptations and modifications that make it more accessible to the folks who are buying it." Such focus on continuous improvement places ROMTech as a leader in orthopedic telemedicine. 
Moving Forward with Thoughtful Modifications  
Over the last several years with the Prescribe PortableConnect being in the hands of patients, ROMTech has continued to focus on improvement of our products. The ability to improve, correct, and cure any issues that arise with the PortableConnect and support the rapid increase in scale is of utmost importance. Listening to patients detail their use of the product allowed the engineering team to make necessary modifications and carry out refinements for future versions of ROMTech technologies. These user perspectives also contribute to the development of new products for future release.
With new products and innovations, the company has also filed for several additional telemedicine patents. These are substantially valuable pieces of ROMTech's intellectual property and patent strategy. By fencing off key aspects of ROMTech technology and presenting strong footing in the telemedicine space, continued growth is expected with little competition. It's important to also note the medical technology market (more specifically telemedicine) is a market segment that has seen unprecedented growth throughout 2020 and is expected to continue at high speed for the foreseeable future. While most existing telemedicine patents are geared around communications and technological "nuts and bolts," ROMTech's is practitioner-focused, using Artificial Intelligence, Machine Learning, and other high-tech functions among others to recommend optimization of rehabilitation protocols to improve care, improve outcomes, and advance orthopedic knowledge.
Continued innovation equals continued success. It's no surprise that doctors and users alike recognize the potential within ROMTech's PortableConnect "As a cardiothoracic surgeon, one of the most important elements in recovery for my patient is safe and active postoperative rehabilitation. The ROMTech System represents a remarkable innovation in rehabilitation technology that has been absent for too long. I immediately recognized the clinical application of this device and the extraordinary potential for market growth in a field that essentially has no competitors," said Cardiothoracic Surgeon, Dr. Nicholas Dang. There is not only reliance upon telemedicine already taking place around the globe, but foreseen additional opportunity for it in spaces previously dominated by traditional methodologies like orthopedic recovery and ROMTech is leading the way for just that. 
View other news in: PortableConnect