ROMTech at the 2019 AAOS Annual Meeting
- Comment
The American Academy of Orthopaedic Surgeons (AAOS) Annual Meeting is the largest gathering of orthopedic surgeons in the world.
March 13-15, 2019 Away from the AAOS Exhibit Floor, ROMTech (formerly ROM3 Rehab) hosted a private suite for select surgeons from around the nation.
Dr. Shane Seroyer, Orthopedic Surgeon: It's just blown away my expectations.
Orthopedic surgeons viewed the all-new game-changing ROMTech Pro Cycle.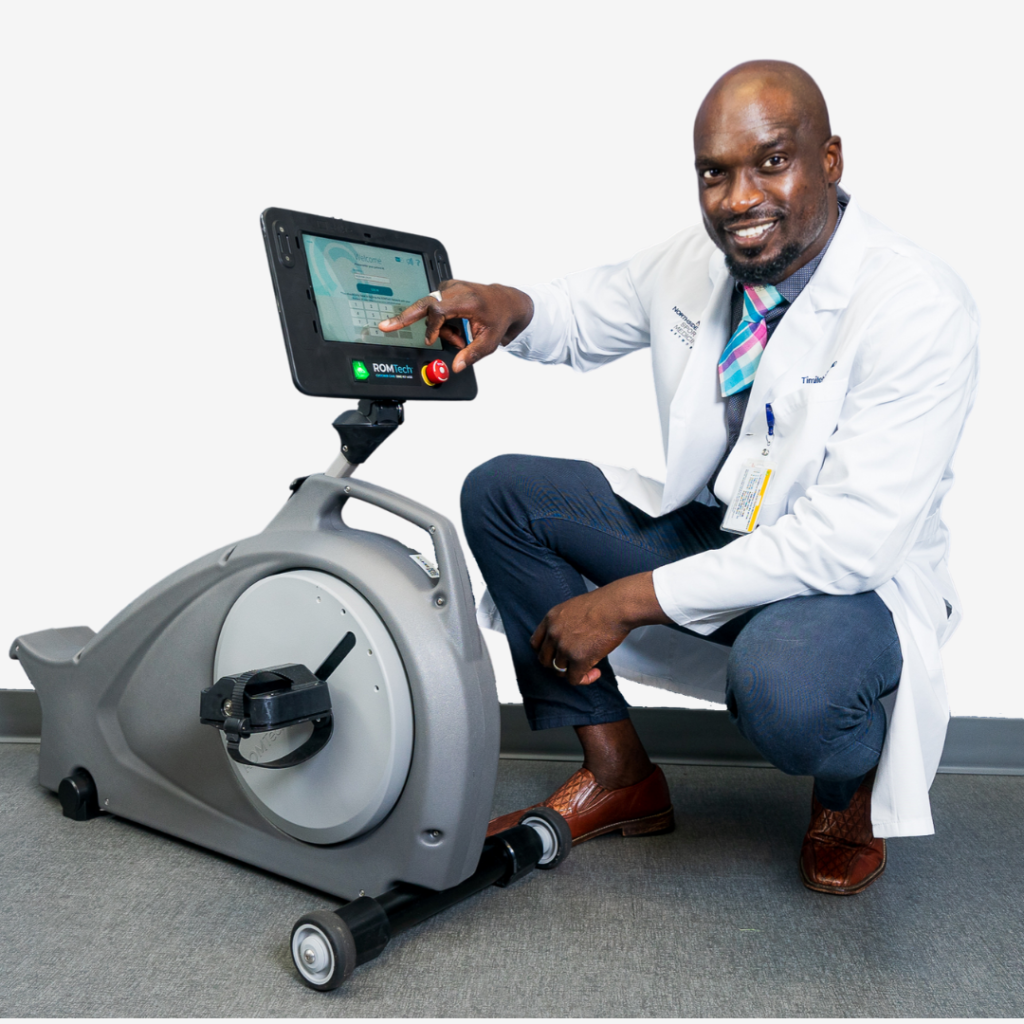 Dr. Daniel Latt, Orthopedic Surgeon: It's a really exciting device. I think one of the biggest ways in which it's going to impact the orthopedic field is it's going to make it possible to both improve quality and reduce cost at the same time."
DR. David Reinhardt, Orthopedic Surgeon: Innovative, new, emerging technology, something that I could definitely use for my patients in my practice.
And for the first time ever, leading orthopedists had exclusive access to the groundbreaking, new ROMTech PortableConnect.
Dr. Andrew Rogers, Orthopedic Surgeon: It's a technology that's new to the market, and even there's a void. We haven't had something like this forever. Patient interactive, immediate feedback, so this is really going to change the way that people can help manage their own care and their own motion.
Dr. Robert Mack, Orthopedic Surgeon & ROMTech Patient: "I had my surgery on a Monday, was discharged Tuesday, and I was riding and using this device on Wednesday. I'm impressed as a patient and as an orthopedic surgeon how quickly my range of motion was restored, how minimal swelling I had after surgery, and how relevantly minimal pain I had. I'm sold. I think it's a great device. I think every patient that has knee surgery ought to be using a machine like this right after the operation.
Dr. David Morawski, Orthopedic Surgeon: I'm very interested in using it on my patients, and very interested in possibly investing in this project.
"The patients, they're getting better rehab experience with the in-home machine."
Dr. Ghassan Boghosian, Orthopedic Surgeon: Seeing is believing. Seeing these gals sitting on these machines, and have the non-operated leg do the full revolution of the cycling motion, and having the newly operated leg be able to do a third of that motion, so that the patient remains comfortable, thereby providing the encouragement to continue.
In 2 1/2 days at AAOS, 92 orthopedic surgeons signed up to prescribe the ROMTech PortableConnect for their post-op knee and hips patients, translating to a recurring order for 1,882 units per month
At $300 per monthly subscription, this represents $565,000 in monthly recurring revenue to ROMTech
Discover how you can achieve better patient outcomes and generate additional income for your practice using ROMTech technology:
Call or text 702-330-5464
View other news in: ROMTech News